Trends
6 reasons to use wood-line gres tiles
Inspiration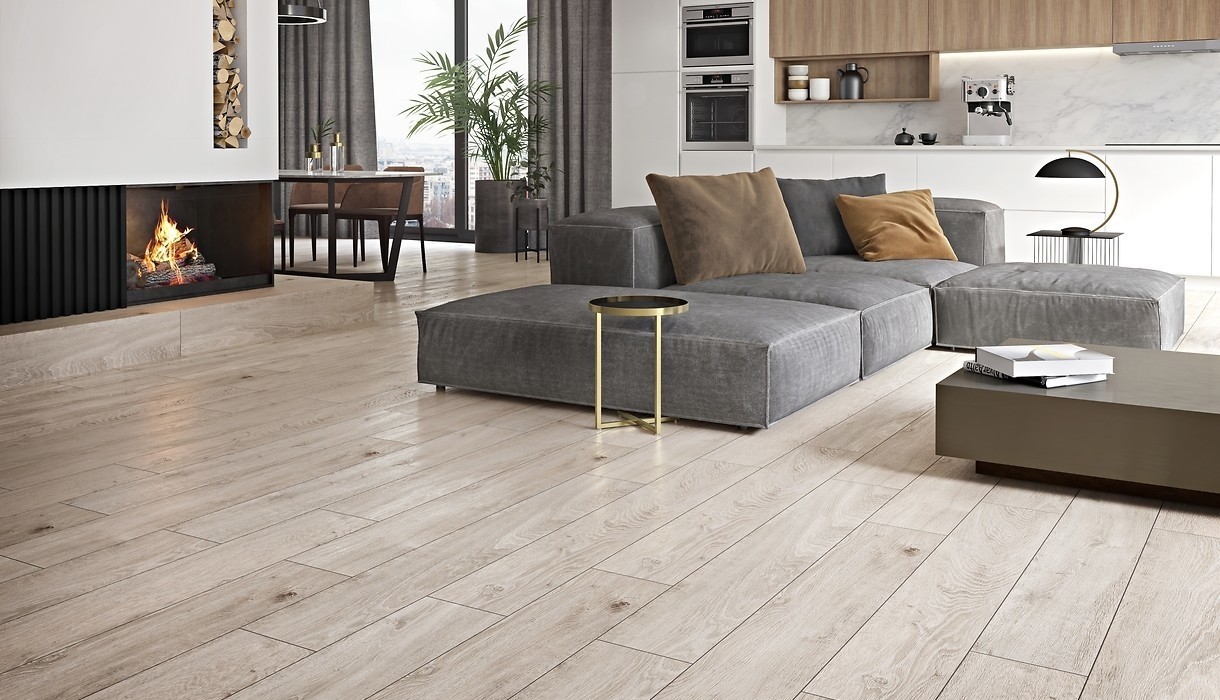 Wood look gres tiles are becoming an ever more popular finishing material – and not only for floors. With its numerous advantages, wood look gres tiles have found their way into interior design catalogues and many Polish homes. Where does this growing interest in milled rock tiles inspired by nature come from? See why you too should consider milled rock tiles for your interiors.
1. The power of natural beauty
The house. This is where you find peace day after day. It is important to associate your house with rest and relaxation. Wood look materials ensure the proper mood for rest and relaxation; wood has been the basic construction material for ages. Due to its beauty and aesthetically pleasing image, wood has also become a decorative material which gives interiors a warm and cozy nature. To keep up with a modern, 21st century lifestyle, we have developed a completely new collection of wood look milled rock tiles which perfectly match contemporary trends by combining a unique look and natural wood colour with practicality and the best features of gres tiles. Opoczno Grand Wood collection tiles combine tradition and a contemporary character, with wood defines a totally new quality in interior decoration.
2. Perfect solution for any room
Where can you install wood look tiles? Wood look tiles give you enormous opportunities for arrangement. Milled rock tiles are also a great choice for your living room, as an alternative for a wood parquet floor. And in the kitchen, milled rock tiles can be used to break the effect of monochrome coloured kitchen cabinetry or with wood cabinetry, these tiles allow you to match the tile colour to the wood grain of the furniture to create a uniform decorative effect. On the other hand, corridors and halls are locations where natural wood would be subject to continuous wear. By choosing wood look gres tiles, you can be sure that no mud, humidity or sand would damage the great look of your floor. What about the bathroom? Replace cold tiles with wood look gres tiles to visually increase the room's size, and also to make your bathroom's interior more calming and let you enjoy long, relaxing baths. With our tiles, each of these rooms presents totally new decorative possibilities. To make your interior decoration dreams come true, use this chart of wood look gres tiles.
3. Practicality above all
The living room and kitchen are the two rooms in a house used most frequently. Practical materials are key for these locations. Wood look gres tiles are durable to mechanical damage which means they are a good choice especially when there are animals in the house. They are also good to use around the fireplace as this material is resistant to fire. Thanks to their easy maintenance, gres tiles are excellent for installing in corridors and halls. You can easily remove mud, water and other dirt, even with a kitchen towel. Natural wood is not a good choice for the bathroom due to high water absorption, swelling of the boards and the need for frequent waterproofing. This was the reason behind the development of wood look tiles which are the perfect choice for the bathroom, and can be used to decorate both floors and walls thanks to their waterproof and anti-slip properties. Additionally, they can be cleaned without fuss using only mild cleaning agents. Interestingly, a room with a wood look tile floor is actually warmer as floor heating installations are more effective due to the lower heat resistance of the tiles.
4. Not only for interiors
Natural decorative motives look good not only in the interiors. It is also a great method to improve your terrace, balcony or a garden. Natural wood outside is subject to even more hazardous conditions, and thus it becomes even harder to maintain the wood in good shape. This is also a place to test wood look tiles. Wood look gres tiles do not require impregnation, are resistant to temperature changes and ensure a flawless look on the outside for many years. In the winter, they withstand frost and in the summer, do not fade in the sunlight. Their low water absorbability combined with their anti-slip features make them safe to use in the rain and snow. Their natural look, different available sizes and numerous colour variations let you find the perfect floor style to match your outdoor relaxation zone.
5. Beauty for years to come
Wood Wood gres tile is one of the best materials available on the market to achieve long term durability combined with time and money savings. Gres tiles are known for their durability, and gres tile boards by Opoczno ensure high technical parameters. With this material, you will be able to forget about renovations for a long time. The basic parameter of gres tiles are their low absorbability, which means very low vulnerability to stains, and makes them easy to keep clean. And with almost 100% resistance to mould and fungi growth, gres is good for people with allergies.
Ever wondered if wood look gres is good for your interiors? Regardless of the style of your house, you can be sure that gres tiles will be a good match. The Scandinavian style is dominated with natural materials, so wood look tiles are a good idea for flooring all over the house. In a Scandinavian-style interior, light coloured wood look gres tiles will be great, for example in a bleached shade with visible wood grain. For the industrial style, use wide tiles in a grey shade of wood or dark rustic wood as a background for a raw and sparingly finished design. In rooms inspired by the Oriental style, dark wood is indispensable. For a floor, select wood look tiles in a deep brown colour to create impressive designs with exotic colourful accessories. Last but not least, for the simplicity and elegance of the contemporary, big city style, use mono-coloured gres tiles without an explicit wood grain. Here, the larger the tile, the better the floor appearance. This also applies to chevron parquet flooring. It is important that the flooring design is regular. The floor may be light or dark coloured. The colour tone depends on the overall colour concept.
Advantages of milled rock tiles
Perfect imitation of natural wood with wood grain structure, knots, dips, etc. at quantities matching the wood type.
For use on different substrates — walls, floors or fireplaces
For use in different rooms and outside:

Water resistant – great for bathrooms and terraces
Frost resistant — resistance to extreme temperatures

Scratch-resistant, mechanically-resistant
Great for pet owners
Resistant to fading, colours do not lose their intensity even after many years
Anti slip — both in shoes and barefoot
Compatible with floor heating systems
Easy to keep clean
Maintenance-free, do not require coating, oil treatment, etc.
Environmentally friendly, made of natural materials
For use in different interior styles