Trends
Parquet and wood-effect gres planks
Inspiration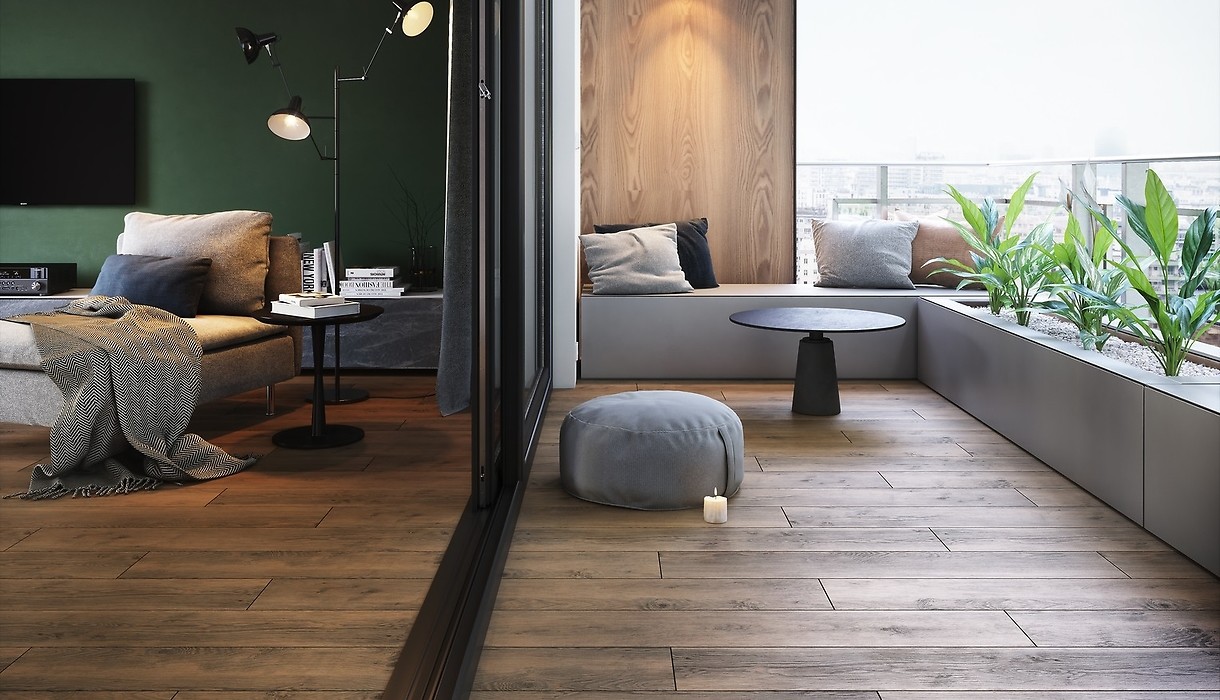 We invite nature to our homes increasingly more often, believing in its positive influence on our well-being. This is a healthy trend that is here to stay – after all, nothing soothes our senses quite like the colours and textures which come straight from the world of nature. This year's Milan trade fair showed that the primary material to be inspired by is wood. Wooden interiors took April's capital of design by storm, and not only when it comes to flooring and furniture. This noble material has been gaining new ground, and has also come to be used as a beautiful wall decoration in modern houses and apartments. The diversity of its types, dominated by darker tones, made a strong impression at Salone del mobile. That wood comes in all shapes and sizes is further proven by other materials it serves to inspire. It is worth taking a look at available alternatives which do away with the limitations that come with natural wood and enable it to really shine. Wood-effect tiles are such an alternative, they are often indistinguishable from natural planks.
Gres planks in the colour of wood
For gres tiles to be a worthwhile replacement for wood, the beauty of the natural material must be reproduced faithfully. This is determined first and foremost by how the specificity of the natural material is transferred onto floor tiles. Our well-known Wood Concept collection offers wood in several different variants which are sure to fit almost every style. Gres tiles reminiscent of light parquet flooring, classic wooden floors, or perhaps something more dark and exotic? Wood Concept has it all. But this is not the end of what we have come up with! We have just released a truly natural collection – Grand Wood. Its large sizes and life-like oak textures result in a uniquely elegant look. The authentic oaken texture comes in three versions, which means that, when designing interiors, the only limiting factor is your imagination.
Grand Wood – three takes on elegance
If you want that Scandinavian look for your interior, start by picking the correct flooring. It works best when the flooring resembles carefully-selected, uniform, light-coloured wood with very delicate textures. The large sizes (20 x 120 cm) and the tint of the floor tiles from the Prime collection mean that they are perfect for this role. The style's iconic simplicity and elegance can be achieved by laying gres planks in straight lines. Remember that subdued colours are indispensable in such interiors, but, at the same time, do not be afraid of contrasts; darker or patterned curtains, pillows or carpets can serve to highlight the light colour of the flooring.
Classic designs never go out of style and, at the same time, they can still feel modern. Trendy and functional solutions are sure to fit in them just as well as in various seasonal design hits. To lend more character to a timeless interior, choose the more textured and varied Natural collection.
Subdued tones, such as beige, cream and sand, are a perfect fit for the classical style. You can also choose darker, brown tones to achieve a Victorian look – another timeless classic. Rustic flooring should also draw on inspirations from nature. Strong textures and dark colours are both allowed here, and both can be found in the Rustic collection. Its long planks make it possible to create simple, warm and functional interiors that feel close to their natural surroundings. They look great accompanied by plants, soft fabrics and materials such as brick and clay.
Where to lay wood-effect gres tiles?
You are free to choose here, and this is what makes ceramic wood superior to the natural material. Laying gres planks in the hall, which sees a lot of traffic (very often in heavy boots) is now actually feasible. The material is becoming increasingly popular in the day part of the house. What is the reason? The functional aspects play a role here, of course, but the aesthetic side of things is not without significance – gres tiles bring the kitchen and the living room together visually, making the interior look larger. If you also choose to lay it on the terrace or balcony, what you get is a bridge connecting the nature outside with the nature within your house. Those who like wood will be happy to hear that wood-effect tiles can also be used in the bathroom, both as flooring and for walls in its different parts, e.g. the shower or near the toilet. All this thanks to their extreme durability.
Wood-effect tiles made to last
How does combining the beauty of wood with the durability of gres in the form of floor tiles benefit interiors? This combination of advantages makes it possible to design spaces which, in addition to reflecting the trend of nature-inspired looks, are both functional and durable. Wood-effect tiles are easy to maintain and resistant to water and the impact caused by household pets, for example. Temperature changes do not affect them, meaning that you can install floor heating underneath, or expose them to freezing temperatures on your terrace or balcony. They can even endure heat and fire, which is why wood-effect gres is also perfect for the area around your fireplace. Heavy items, such as flower pots and other decorations, do not deform the surface of wood-effect tiles, which is not the case for even the hardest types of wood. If you want to bring nature's warmth into every room of your house, choose Grand Wood or Grand Concept flooring. This ensures that both your pragmatic side and your sense of beauty are fully satisfied.