Trends
Solid 2.0 gres tiles. A modern alternative for paving stones
Inspiration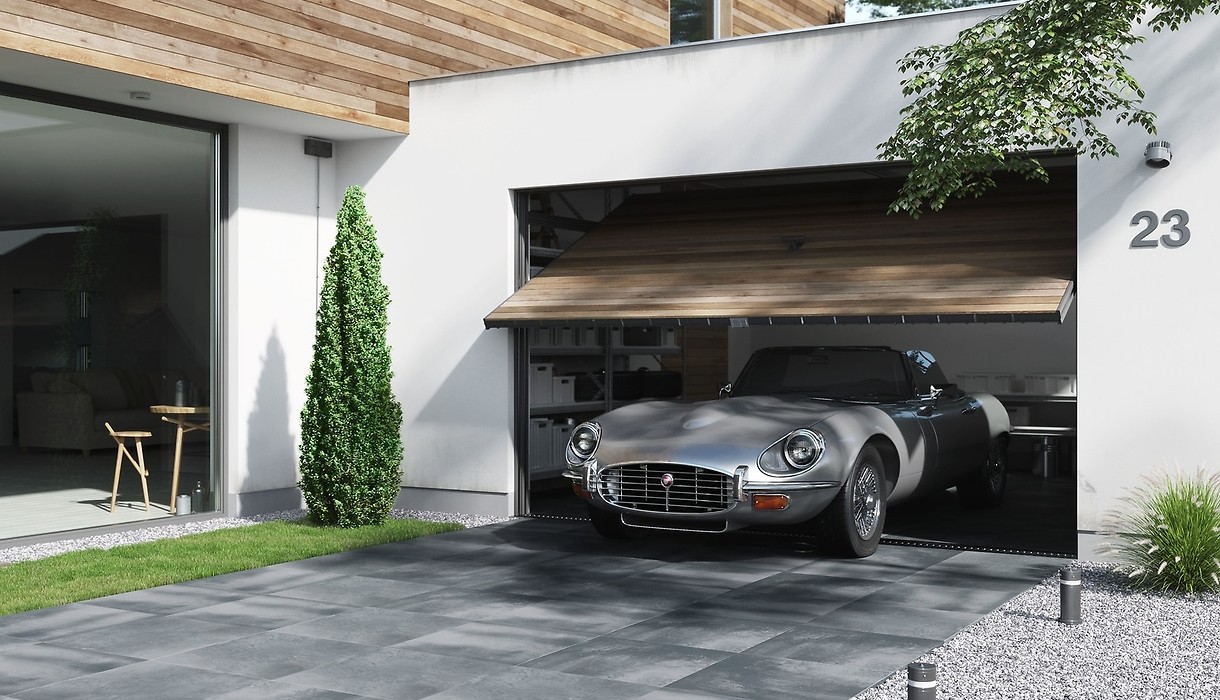 A terrace and garden became an extremely important space for designers – today, they function as an extension of the living room. Paving stones, which have been the most popular choice so far, now have strong competition. Nowaydays, gres or wood tiles are being used more and more often. Let's have a look at some possible solutions.
Paving stones or gres tiles? What to choose?
Paving stones are the most popular material used in gardens. We decide to use them because of their relatively low price and widespread availability. However, this material has some drawbacks related to its maintenance and aesthetics:
The stones are small, which means there are a lot of spaces between them, which are initially filled with sand, but over time, dirt gets in there easily. This allows weeds to grow and deform our paths. When paving stones are used on a larger area, keeping the surface clean can turn out to be very labour-intensive.
"Greasy spots" that look like discolouration may appear on the surface of the stones. They appear as a result of differences in the water absorption rates of individual pavers and the easy absorption of dirt.
Paving stones are also a material that can be found almost anywhere. It is hard to make your path look original and modern.
Gres tiles are distinguished by their extraordinary durability and timeless design. Thy are a practical and elegant alternative to ubiquitous and unattractive paving stones. The simpler, the better - which is why using gres tiles is worth considering. They are easy to clean and resistant to all kinds of dirt - you can remove grease and fat from them easily. Gres tiles are not prone to be damaged by plant-care chemicals, which is convenient while gardening. Gres is a material suitable for surfaces exposed to water and frost.
A practical alternative to wood
Wood is a very desirable finishing for terraces and gardens. Many people decide to arrange their spaces using wood, however, its limitations (e.g. high maintenance costs), can be discouraging. Additionally, this material is constantly exposed to dirt, mechanical damage, sunlight or weather conditions, and its maintenance is demanding – wooden boards need regular preservation. For these reasons, we often look for substitutes that will look just as good around our home, and which are more durable and less labour-intensive.
Composite boards are another material chosen for terraces. They look like natural wood, but they are easier and cheaper to maintain. However, they also have some disadvantages that can potentially prevent their use outside the house. They should not be used outdoors, because the material constantly exposed to sunlight heats up, which may lead to permanent discolouration. A composite board is relatively easy to scratch, which makes it look worn really quickly.
So, how do you combine the beauty of natural wood with exceptional durability? Gres tiles from the Wood 2.0 collection would be a good choice since they copy the natural grain and shades of wood, while retaining the properties that enable their trouble-free use. They will certainly appeal to fans of natural design as well as the Scandinavian and rustic styles. This material is also environmentally friendly - gres is a natural mixture of, among other things, clay, kaolin or feldspar. What is more, the advanced technological processes used give it the best operational parameters, which makes it a perfect finishing material for years.
Gres tiles - durable and functional
Why is it worth replacing traditional concrete screed or simple tiles with their more modern version? Gres is the most durable solution - it is resistant to weather conditions and ensures optimal drainage of rainwater. In addition, due to its unique resistance to stress, it is also perfect for the driveway. It is interesting to note that one Solid 2.0 tile is able to support a load of up to 1000 kg! The large, 60x60 format will be suitable even for a small terrace - it makes the resting area look optically larger. Gres tiles can also be used in the damp surrounding of a pool or a pond. The Stone 2.0 collection, which refers to the colours of the earth, will blend in perfectly with water and foster safe relaxation. The fine, rough texture of gres will emphasise the stylish look and, what most importantly, will prevent slipping on wet surfaces, which is confirmed by their high R10 and R11 anti-slip classes. For example, choosing a warm, cream shade Stone 2.0 Beige, we can be sure that the surface will not warm up too quickly so that we can walk freely around the pool. Especially important in such areas, gres tiles are fully resistant to fungus and mould.
Trouble-free fixture
Their easy fixture on any surface is an indisputable advantage of gres tiles over paving stones and other materials - most often, we can do it by ourselves. We can easily demarcate paths in the garden, laying them directly on the grass, gravel or sand. If we use special brackets, we can arrange uneven terrain and space with ground at different heights. In addition, this solution will allow us to hide pipes, cables and other wires that we need on the terrace. Gres tiles can be moved easily, if you need to set a garden path in a different place, for example. There are so many fixture methods that we can use the tiles as we want, in the desired spaces - without disturbing the existing layout of greenery and lawns.
A fashionable terrace? Like a second living room!
Modern arrangements appear not only in our homes, but more often we are also moving them outside. Using the same material in the living room and on the balcony, terrace or in the garden is both fashionable and universal. The functional and versatile series of Solid 2.0 gres tiles combines high technical and functional parameters with the latest trends. We decide whether we focus on minimalism (Slate 2.0), wood themes (Wood 2.0), industrial concrete (Beton 2.0) or patterns inspired by the beauty of natural stone (Atakama 2.0, Stone 2.0). Their equivalents are also available as interior versions.
Gres tiles in modern interiors
The Solid 2.0 gres tiles series made by Opoczno covers several collections offering the most popular themes corresponding to different styles, ranging from raw concrete designs, ending with warm shades referring to the natural appearance of wood. Gres tiles from Atakama 2.0 collection offer 3 stone patterns, which are the perfect answer not only to the needs of fans of stylish interiors - they also allow us to create a coherent concept of space arrangement outside. Gres tiles can be used on the terrace, but also to demarcate paths in the garden. The stone drawing will perfectly match the green colour of the grass. The Beton 2.0 collection, with the structure and appearance of concrete, and Slate 2.0, distinguished by beautiful minimalist design, will be perfect for minimalist interiors.
The advantages of Solid 2.0 gres tiles
load-resistant - each can support a load of over 1000 kg
frost resistant - resistant to extremely low temperatures
chemical resistant - resistant to strong chemical substances
resistant to salt, salt water as well as chlorinated and sea water
resistant to fading - even after years, the colours do not lose their intensity
resistant to "thermal shock" - they can withstand great jumps in temperature without any changes
anti-slip - slip resistant when moving in footwear and barefoot
easy to keep clean
no maintenance needed
environmentally friendly - made of ecological raw materials