Trends
The power of a detail. A modern Q22 office building in the style of Opoczno
Inspiration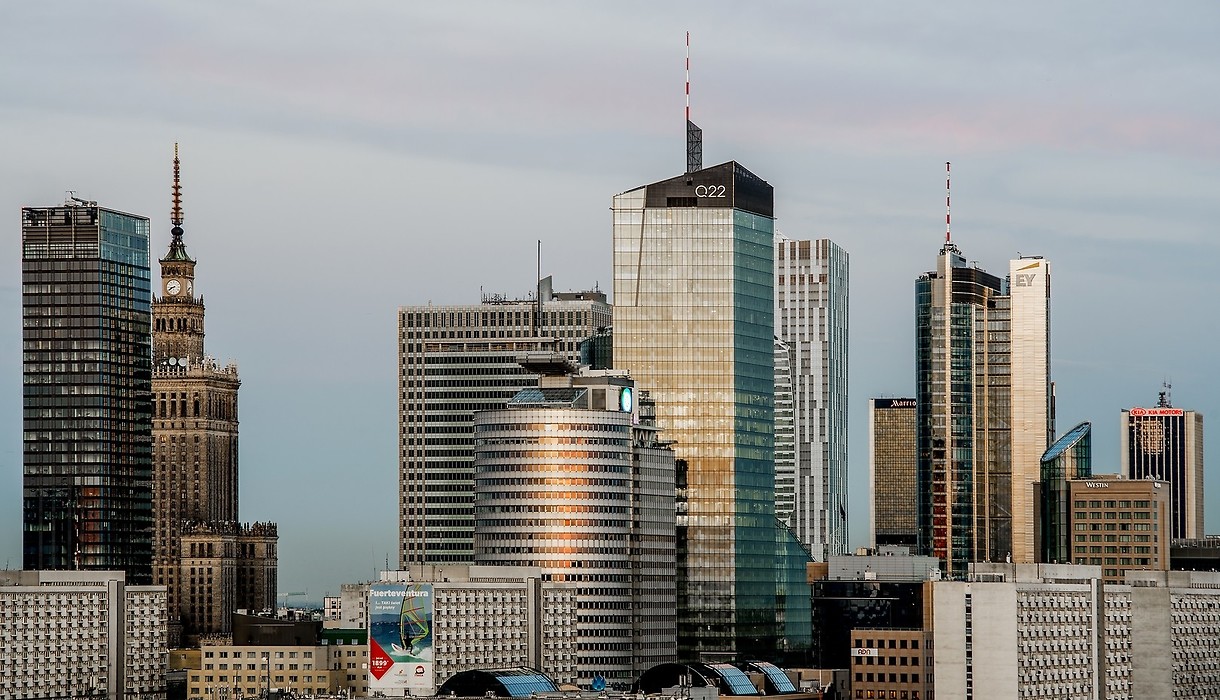 Almost 10,000 tons of iron, 34 thousand m3 of concrete, 155 m in height, 54 thousand m² of usable floorspace across 47 floors, and 15 thousand m² of Opoczno tiles manufactured especially for this project. This is how you can sum up the Q22 skyscraper in numbers, which also impresses with its unique shape inspired by a quartz crystal – with characteristic bends, emphasising its pure and dynamic form. Q22 is one of the tallest and most modern buildings in Warsaw.
Opoczno. Large-scale modernity
Q22 is an office building located in the Śródmieście district of Warsaw, at the corner of Grzybowska St. and Jana Pawła II Ave., the developer of which is Echo Investment. The building was commissioned in 2016 and was granted the BREEAM Interim Excellent certificate. Kuryłowicz & Associates, a Warsaw architectural studio, is responsible for this modern and award-winning design. The exterior perfection of Q22 strongly corresponds to its interior. The building is primarily elegant, which was achieved by using new technologies and top-quality materials. Opoczno tiles were used to finish the common, modern toilets, the representative lobby, and other communication routes. The Nerthus collection was created especially for the needs of Q22. What was the cooperation like during this unique project?
"During fit-out works in Q22, we proved that a commercial building, just as with a house or flat, requires a focus on details and top-quality performance. We cooperated with the architects and the investor at each stage of the project - together, we selected patterns and colours, and then we utilised our production capabilities, which led to the creation of a collection perfectly matching the trends and expectations of a wider group of clients. This allowed us to combine usefulness with attention-grabbing modern forms, ecological solutions and appropriate space management in Q22. All of these resulted in a well finished and functional interior", says Wioletta Marat, Q22 Project Manager from Opoczno.
Tailor-made Opoczno collections for each project
In such large buildings as Q22, the comfort and the quality of the materials used are very important. Openness to the individual needs of the building and its future users is the first step to achieve a satisfactory final result.
"The scale and complexity of this project were impressive, but thanks to the wide range of Opoczno products and our extraordinary solutions, there are almost no limits for us in the scope of such projects. Our portfolio already includes several dozen public buildings, of various characters and scales, the interiors of which still perform their operational and aesthetic functions. There are shopping centres, stadiums, medical centres, libraries and office buildings finished with Opoczno tiles all over Poland. It is the result of our experience and individual approach that made us also successful during cooperation with Q22. Gres tiles from the Nerthus collection, designed for this particular project, perfectly fit the expectations of its investors or architects, and are appreciated even today", adds Wioletta Marat.
Industrial inspirations straight from Q22
The Nerthus (G302) collection used in Q22, which is now also available for individual clients, is perfect for modern interiors. It is distinguished by a limestone pattern, which creates the unique effect of natural stone. Due to their high quality, tiles from this line can be successfully used both in interiors and on balconies or terraces. The Kallisto collection is designed for people who like playing with the form. The different formats of tiles allow for any combination into interesting and individual compositions. The Dry River series is a reflection of the trend in which space is created based on the raw nature of concrete, which makes it expressive and characteristic. Moondust is a classical, balanced and most versatile collection, which consists of tiles in four colour versions, two formats and different surface types.