Blog
Curious about the features of a shower toilet have? Explore the reasons why it is worth considering!
Articles
Shower toilets are a solution for those who appreciate the convenience of use combined with the use of modern technology and unique design. MEISSEN KERAMIK products are bathroom fixtures that enhance user comfort to a considerably greater extent. Discover the features of Genera shower toilets.
Genera shower toilets – designed in response to market demands
Undoubtedly, the modern bathroom fixtures market requires solutions that are new, innovative, and capable of meeting the needs of highly demanding customers. Devices should be multifunctional, enhancing various aspects of daily life, while also catering for the environment. Today, these needs are more prominent than ever. At MEISSEN KERAMIK, we recognize this and, as a result, have have launched high-quality shower toilets.
"Shower toilets are a product that sets a whole new standard in hygiene and comfort. They are also appreciated for their ability to keep the bathroom clean and for a reduction in paper consumption, which can have an environmental impact. Their purchase is also more cost-effective than investing in a wall-hung bowl and bidet separately. They are also being chosen because of the increasing search for smart solutions for our homes, including but not limited to bathroom spaces. This is where the Genera shower toilets from MEISSEN KERAMIK work the best." - Alexander Siller, Managing Director, explains.
Features of shower toilets
Genera shower toilets perfectly align with the concept of a smart home, providing a high standard of hygiene, while offering user convenience, ease of cleaning, and a genuine opportunity to care for the environment. Discover the features our shower toilets.
Features of Genera shower toilets: – glossary
The key features of Genera toilets are those related to the highest standard of hygiene. We have developed solutions that allow you to feel fresh and pleasant, while ensuring user convenience:
2 basic wash modes: standard and feminine. Washing the feminine intimate area is possible thanks to a separate nozzle opening that releases a stream of water.
2 additional wash modes: oscillation wash, which allows you to wash a larger body area, and pulse wash, in which water is sprayed with variable intensity.
Water temperature adjustment: with a 5-position temperature adjustment, you can adjust the temperature to your individual preferences.
Nozzle position adjustment: you can adjust the water stream to your physical characteristics by changing the nozzle's extension.
Water spray intensity adjustment: with a 5-position water spray intensity adjustment, you can adjust water spray intensity to your individual preferences.
Temperature-controlled drying: a function that allows you to dry the intimate parts of the body after using the standard and feminine modes.
In addition to offering a pleasant experience when using Genera toilets, we have also taken care to make the cleaning of the product as convenient as possible. Discover the product hygiene features of Genera washing toilets.
ClearZone technology, we have eliminated the rim where dirt and germs tend to accumulate. As a result, the bowl is more thoroughly rinsed compared to traditional models.
SilverZone technology – the ceramic bowl is coated with a glaze containing silver ions that minimize bacterial growth by up to 99.8%.
Pre-spraying, of the inside of the bowl. This feature activates automatically upon detecting the user, aiming to facilitate the removal of impurities.
Easy cleaning of the nozzle, which is a basic part of shower toilets. Thanks to the self-cleaning function, the nozzle is rinsed with a stream of water after every use, but it can also be manually cleaned by simply removing the nozzle tip. To maintain sterility, the nozzle tip can also be replaced periodically without the need to replace the entire arm.
Descaling system – regular descaling ensures long-lasting and trouble-free use of the toilet. The need for descaling is indicated on the control panel.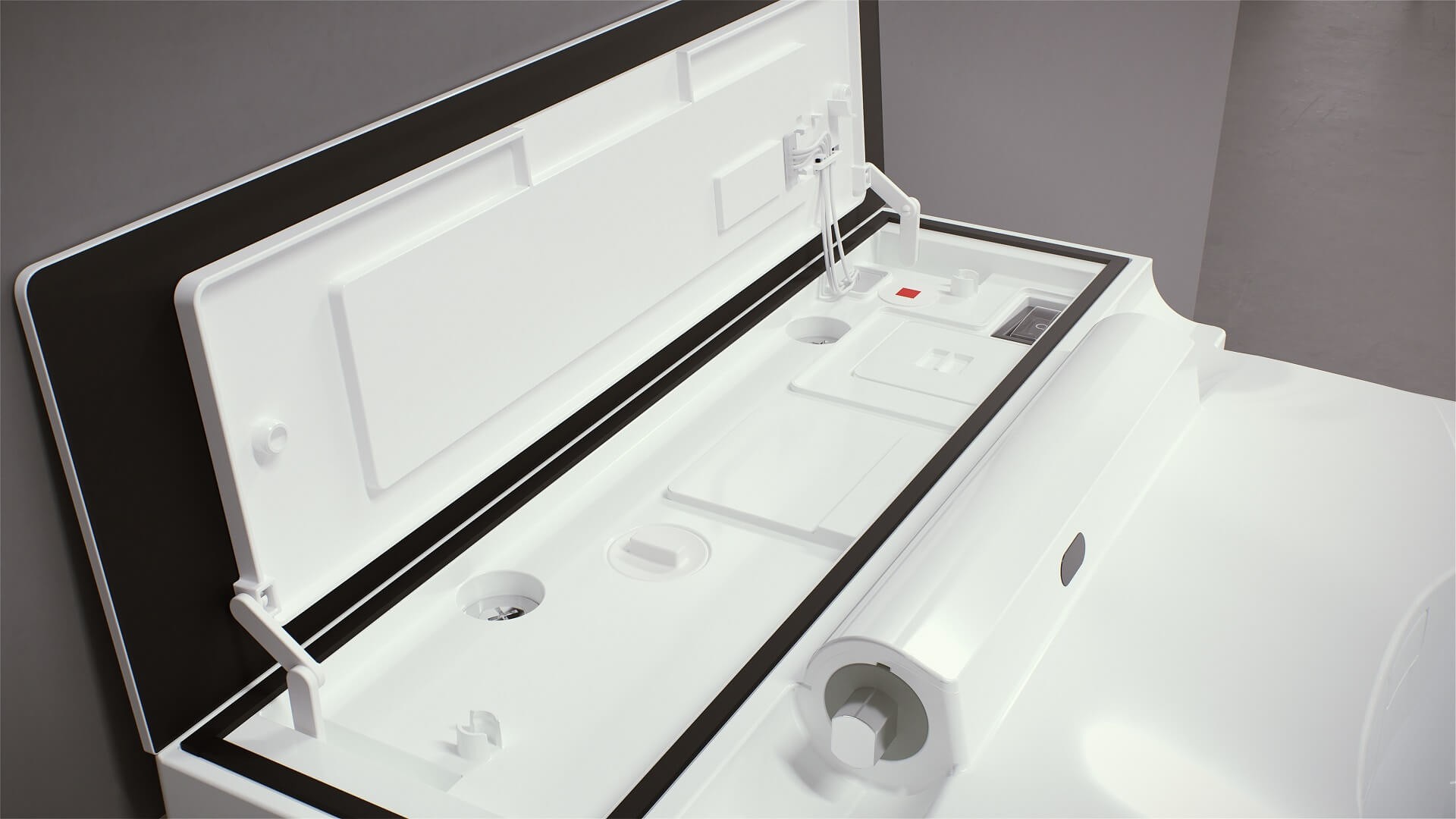 Shower toilet – why is it worth considering it?
In addition to the personal hygiene features and convenience in cleaning the shower toilet bowls, we have also incorporated other high-tech solutions.
unnecessary activation of the washing system. The inside of the bowl is illuminated by soft LEDs that activate in the dark, eliminating the need to turn on the bathroom light – especially useful at night. We have taken care of details such as odor reduction and a soft-close seat with easy removal. In addition, the toilets can be controlled via an app, remote control, buttons or a knob. With several different control methods, each user can choose the one that suits them best. All of this is designed to provide users with the utmost convenience.
Shower toilets are undoubtedly incomparable to traditional ones. It is worth introducing them into your bathroom, as they allow you to feel fresh and comfortable after every use. They simplify life in various ways, enhancing hygiene standards, providing convenience, and drastically reducing the time needed for cleaning compared to standard toilets. These advanced fixtures elevate the user's experience to new heights while maintaining a compact and stylish presence in the bathing area.