Blog
High-quality bathroom ceramics – enhanced quality of life
Articles
When we furnish our homes, we strive to create functional spaces that will serve us for years to come. This functionality is particularly crucial in areas like the bathroom, where renovations involve significant costs and temporary inconvenience due to the unavailability of essential fixtures. At Meissen Keramik, we have a longstanding commitment to providing solutions of the highest quality that truly enhance the comfort of everyday life over an extended period.
Investing in a bathroom is investing in comfortable living
Renovating or furnishing an apartment is typically a substantial investment. When choosing appliances or furniture for each room, it is important to consider their long-term usability. While their aesthetic appeal is undeniably important, the primary focus should be on ensuring good quality.
This is especially critical in the bathroom. On the one hand, the bathroom is intensively used, with each member of the household spending several moments there multiple times a day. On the other hand, it needs to offer comfort to fulfill its purpose effectively. The ability to enjoy a shower in a spacious enclosure, use a comfortable toilet, and have fixtures that are easy to clean all contribute significantly to the comfort of daily life. Investing in high-quality and well-designed bathroom furnishings therefore, represents an investment in enhancing the overall quality of life.
Meissen Keramik: technologies that enhance convenience
The interior of a well-designed and decorated bathroom must be inherently functional, otherwise it will be visually appealing but utterly useless. Fortunately, at Meissen Keramik, we know how to combine design with technology that improves the comfort of daily life.
· Kontra countertop washbasins
The Kontra collection of countertop washbasins exemplifies the perfect balance between design and functionality. With their sleek and slender 5-millimeter walls, they embody the latest trend in interior design. However, designing durable and damage-resistant washbasins would not be possible without using the right technology – in this case, HardLightZone. This technology means that each Kontra countertop washbasin has thin walls without compromising on quality and longevity.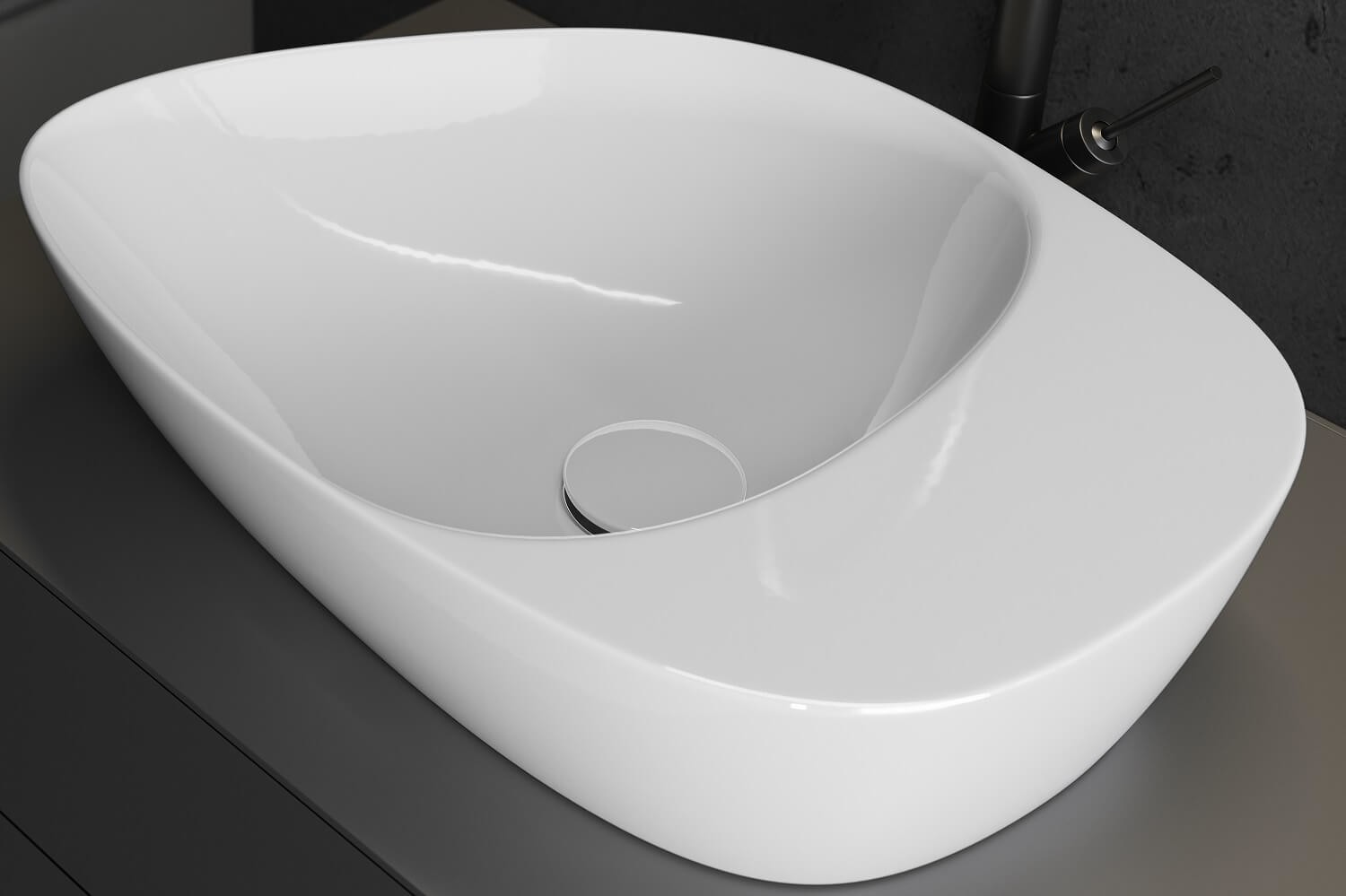 KONTRA 48 countertop washbasin with Euro White shelf
Another notable innovation is the SilverZone technology, which significantly reduces the need for frequent washbasin cleaning. The ceramic coating of the washbasins contains antibacterial silver ions, making the washbasin highly hygienic! You can maintain cleanliness effortlessly with regular, readily available cleansers, as no harsh chemicals are required.
· Genera shower toilets
Our first product line, Genera shower toilets, is also equipped with a range of advanced technologies. Just like with our other offerings, we have seamlessly blended high-end design with exceptional functionality. Thus, the Genera shower toilet is an investment that will stand the test of time: its timeless design will remain fashionable and captivating, while the innovative technologies integrated into the toilets will continuously enhance comfort. What lies beneath the sleek exterior of the shower toilet?
· ClearZone Technology, eliminating the rim where dirt and germs tend to accumulate. As a result, the bowl is more thoroughly rinsed compared to traditional models.
· SilverZone Technology – the bowl is coated with silver ions that minimize bacterial growth by up to 99.8%.
· Fresh Zone Technology – the flush button incorporates a small basket for placing cleaning and disinfecting cubes. This makes it even easier to keep the ceramic bowl clean.
You can read about all the features of Genera shower toilets here.
When designing a bathroom, it is important to consider the space not only as a visually pleasing area, but also as a room that greatly influences the daily comfort of those using it. By using high-quality products like Meissen Keramik bathroom ceramics, it becomes possible to create a bathing space that is not only aesthetically pleasing but also highly functional.